Grow Your Business with Local SEO for Plumbers Website by Marketing Pros!
A website holds immense and infinite potential to help you expand your business and reach the target audience, but only if it's perfectly conceptualized and designed! So, is your website up to the mark?
Webzinnia is a famous company that helps plumbing businesses with online marketing. We are good at creating websites and marketing strategies that work well. Our team has helped many plumbing businesses in the USA and Canada with SEO and other digital marketing services. If you're a plumber and want more customers, our SEO for plumbers can help you. We will improve your website and use smart marketing to make your business stand out. You can trust us to help you succeed in the competitive market such as the following: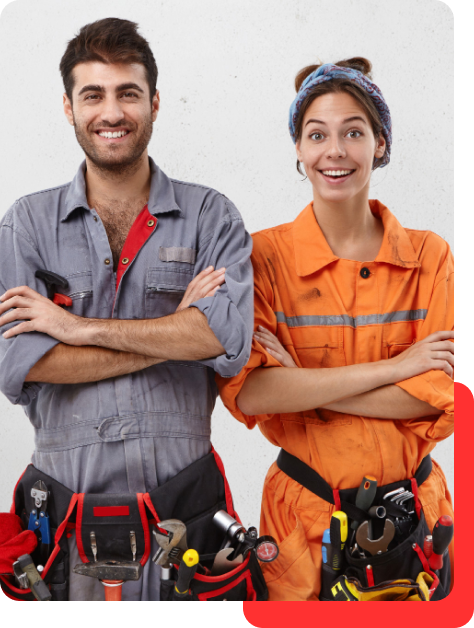 Bring More Relevant Traffic Through Blogs & Unique SEO Optimized Content

Get More Quality Leads & Improve The Conversion Rate

Design Logo And Website With Our Experts

Rank Higher In Searches And Above Your Competitors
We have helped lots of plumbing clients for a long time, so we know a lot about the plumbing business, what customers want, and what other plumbing companies are doing. We also know much about digital marketing and local SEO for plumbing websites. Our experience can help you make a website, get found on the internet, and get more customers. Trust our expertise in SEO for plumbers to help your business grow and succeed.

Build an Organic Digital Presence

Get Relevant Content that counts


Rank on Numerous Keywords

Boost Traffic Organically

Build Landing Pages that Work
Local SEO can help your Plumbing Business Standout

SEO can help your Plumbing Business Standout
SEO is an organic way to build and maintain your brand/business in the digital space. It comes with the opportunity to reach out to your target audience, but for that you need a dynamic SEO strategy that is complimented by a well-designed website.

Search Engine Optimisation
An SEO strategy is created post a thorough analysis of your business goals and vision. We begin by performing a website audit or creating a user-friendly website for your business in case you don't have one! Following this, we work on building backlinks and do on-page SEO activities like adding Meta information and off-page activities such as guest posts, social media marketing and so much more.
SEO Optimized Content
Every digital marketing expert concurs with the fact that content is king! With unique, relevant, and SEO-optimized content for your plumbing website you can secure the top positions in search engines like Google and more. We know where and how many keywords should be added to the content and how to display the USPs of your business predominantly on a page with relevant CTAs, so connect with our team today.

Website Design / Development
A good website has higher retention value and it also enhances the overall experience of a visitor. Placement and the ratio of content to design, along with features like logo, integration of payment modes, chat support, website loading time, color scheme, device compatibility, and more plays a pivotal role in marking the first impression.
With our experts by your side you can rest assured of a marketing strategy that is diligently created and vigilantly executed. At Webzinnia, we dedicate time to understand your business, vision, marketing approach, revenue targets, target audience and USP's, to offer you services that are apt for you and can take your business a notch higher.

CONSULTATION
Book an appointment with our team today and discuss your business requirements in detail. We offer a free website audit that will tell you the areas where you need to work harder and how Team Webzinnia can help.

PROPOSAL
With us you can get a customized marketing plan depending on your specific needs. You can pick from a wide range of marketing services such as SEO, website development, Google ads and so much more.

EXECUTION
We execute the marketing strategy carefully, parallelly monitors it and modifies it if the need arises to gain the desired results. Rely on us for on-point execution and constant support throughout the project.
Reduce Your Marketing Spend By 70%
Revenue Organically 10X Faster!

No Card Details Required.

Keep all the work.
It's yours.

Senior Technical Architect's assistance
Frequently Asked Questions

Get your new website ready in 5 to 15 days! Yes, that is the advantage of associating with Webzinnia. Let us know the number of pages you need for your website and our team will share the timeline with you.
At Webzinnia, we offer affordable and effective marketing solutions to all our plumbing clients. Book an appointment with our team and discuss your marketing needs and services for a precise quote.
After placing an order and completing all the joining formalities, our team will gather all the information to get started. 
We will design or rebuild the website as per your requirements. 
Our team will share the final design to you for your approval. 
Post your approval we will make the website live and switch focus to the regular SEO for your plumbing website to give you the desired visibility on the internet.
Organic leads depend on various factors such as competition, targeted geography, SEO practices, content, source of traffic and so much more. Our team at Webzinnia, focuses on all these factors simultaneously to boost organic performance as soon as possible. You will certainly see improvement in traffic, leads, views, reach and many other parameters with Webzinnia in just a quarter!
Only the experts! Yes, we will assign you a dedicated account manager, who will keep you posted about all the developments, and will also keep you abreast with the latest marketing trends. They will suggest modifications, share reports, handle your concerns, if any and be a constant support that you can count on.