Builderall vs GoHighLevel: Which Platform Suits Your Needs?
In online business and marketing, having the right tools is important. Two popular tools are Builderall and GoHighLevel. They help businesses do well online. They each have good and not-so-good things, which can be helpful for different needs. This blog will look at what Builderall vs GoHighLevel can do. We'll see what's good and not so good about them. It will help you decide which tool is better for what you need.
Builderall: All-in-One Marketing Solution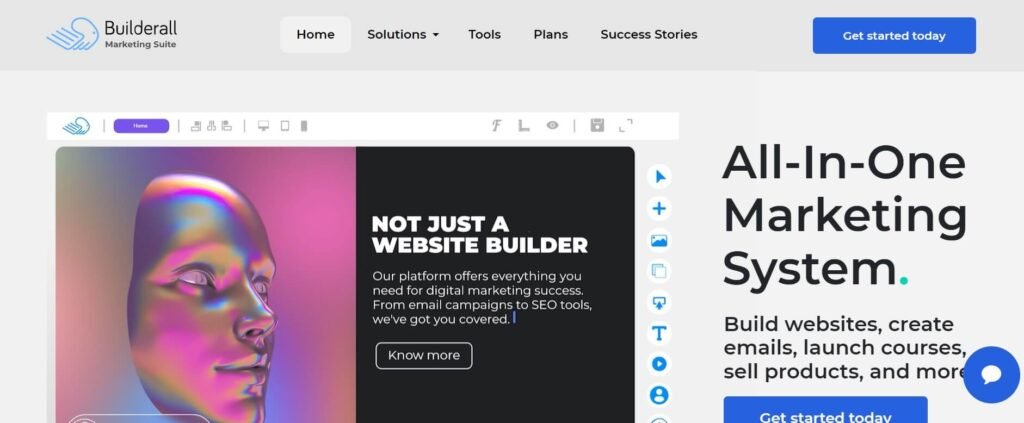 Overview: When thinking about Builderall vs GoHighLevel, Builderall is a tool that supports people with online businesses. It has many tools in one place to make online work smoother. It helps create websites, send emails, and sell things online. It also helps you connect with people who might like your business. Builderall is helpful for those who are just starting and those who have experience in business. It's easy to use and has lots of tools for online marketing. In comparing Builderall vs GoHighLevel, Builderall is all about having many tools for online businesses.
Key Features:
Website and Funnel Building: Builderall has a tool that helps you make websites and pages. You don't need to know how to code. You can easily put things where you want them using drag-and-drop. It also has ready-made designs to make things quicker.
Email Marketing: The platform includes an email marketing tool that lets you design and send email campaigns to your subscribers. It also provides automation features to segment and target your audience effectively.
E-commerce Integration: Builderall allows you to set up an online store, manage products, and process payments using its e-commerce features.
Sales Funnels: The platform enables the creation of sales funnels to guide visitors through a specific journey, from initial awareness to final conversion.
Membership Sites: Builderall offers the ability to create and manage membership sites, where you can provide exclusive content or products to your subscribers.
App Builder: One unique feature of Builderall is its app builder, which lets you create and publish your own mobile apps, potentially expanding your reach and engagement.
Pros:
Comprehensive Suite: Builderall's all-in-one approach can be appealing to those looking to access multiple tools within a single platform.
Affordability: Builderall often comes at a more budget-friendly price point compared to other marketing platforms, making it suitable for small businesses and startups.
No Third-Party Integrations: Since most tools are built into Builderall, you don't need to rely heavily on third-party integrations, simplifying your tech stack.
Cons:
Learning Curve: While the platform is designed to be user-friendly, the abundance of features can lead to a steeper learning curve, especially for beginners.
Complexity: The all-in-one nature of Builderall can sometimes result in a cluttered interface, making it overwhelming to navigate.
Limited Advanced Functionality: Builderall's features might not be as advanced or customizable as some specialized tools in the market.
GoHighLevel: Streamlined Business Automation
Overview: When thinking about Builderall vs GoHighLevel, GoHighLevel is a bit different. It's made to help agencies and businesses that do services. Unlike Builderall, GoHighLevel is all about making work easier. It helps keep customer info neat and lets businesses talk to clients. It also does some work automatically, which is faster. GoHighLevel is great for agencies and businesses that give services. It's about making work better and saving time. So, when thinking about Builderall vs GoHighLevel, know that GoHighLevel is made to help agencies and businesses that do services by working for them and managing clients.
Key Features:
CRM and Lead Management: GoHighLevel offers a robust CRM system to manage leads, track interactions, and monitor the sales pipeline.
Automation: One of GoHighLevel's standout features is its automation capabilities. It enables you to create automated follow-up sequences, appointment scheduling, and even SMS marketing campaigns.
Sales Funnels: Similar to Builderall, GoHighLevel allows you to build sales funnels, but with a focus on simplicity and optimization.
Appointment Scheduling: The platform offers integrated appointment scheduling, which can be particularly useful for businesses that require client consultations or meetings.
White-Labeling: GoHighLevel allows agencies to white-label the platform, presenting it as their own to clients. This can enhance brand credibility.
Analytics and Reporting: The platform provides analytics and reporting features to track the performance of campaigns and client interactions.
Pros:
Simplicity: GoHighLevel's interface is designed to be intuitive and user-friendly, making it easier for both beginners and experienced users to navigate.
Automation: The platform's strong focus on automation can significantly reduce manual workloads and enhance productivity.
Agency-Friendly: GoHighLevel is well-suited for marketing agencies, offering features that cater to client management and branding.
Cons:
Focused Audience: While GoHighLevel is excellent for agencies and service-based businesses, it might not have as broad a range of features as Builderall for entrepreneurs with diverse needs.
Limited E-commerce: Compared to Builderall, GoHighLevel's e-commerce capabilities are more limited.
Price: GoHighLevel's pricing might be higher compared to Builderall, which could be a factor for smaller businesses.
Choosing the Right Platform: Builderall vs GoHighLevel
The decision between Builderall vs GoHighLevel depends on your specific needs and priorities. Here are a few scenarios to consider:
If You Need Comprehensive Tools: If you're a small business looking for an all-in-one solution that covers website building, email marketing, e-commerce, and more, Builderall might be a good fit. It provides a wide range of features under a single roof.
If You're an Agency: If you're a marketing agency seeking efficient client management, automation, and the ability to white-label services, GoHighLevel could be the better choice.
If You Prioritize Automation: For businesses that heavily rely on automation to streamline processes and save time, GoHighLevel's automation features can be a game-changer.
If You're Budget-Conscious: Builderall's affordability might make it more appealing for startups and smaller businesses with limited budgets.
If You Prefer Simplicity: If you're new to online marketing tools or prefer a more straightforward interface, GoHighLevel's user-friendly design might be more appealing.
Final Words
Comparing Builderall vs GoHighLevel, both are useful for businesses that want to do well online. Your choice depends on what you need and how your business works. If you like everything in one place, Builderall's many tools can help. But GoHighLevel is best for businesses that offer services or work in agencies. It makes things easier by doing some tasks automatically. It's easy for these types of businesses. Think about what you need, see what each tool can do, and think about how your business can get bigger. Whether you pick Builderall vs GoHighLevel, having a strong online tool will help you do great.